Welcome to the USS Loki!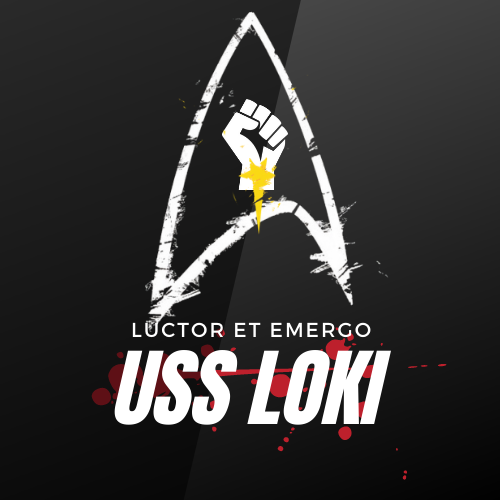 "The only way to deal with an unfree world is to become so absolutely free that your very existence is an act of rebellion." - Albert Camus
In 2375 the Dominion and the United Federation of Planets signed the Treaty of Bajor. After three blood-soaked years, with millions of casualties, the war was finally over, as the UFP surrendered to the Dominion.
You're probably wondering how the quadrant came to be in the state that it's in, so much has happened in the nearly 25 years it's too much to name here, for a full overview you can
take a look at our timeline
, the short version? Operation Return was a bust, and the years following hell. Now the founder who calls themselves 'Prime' lords over Earth and the occupied worlds of the Federation.
That's the situation you're walking into, and if you have the guts to stand up to the iron fist of the Dominion, then
join us
on our
California class
vessel in a desperate attempt to bring down the Dominion. Because even though the war is lost, our fight is far from over!
---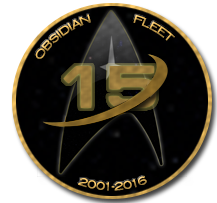 The USS Loki is a proud member of Obsidian Fleet

Game rating:

Latest News Items
Posted on Saturday October 3rd, 2020 @ 11:42am by Niyahra Riohn in Out of Character
This month, to get us started off in explosive fashion, and to instill some friendly competition with our sister ship the USS Tesla, we'll be working to get to 50 posts before they do!

- We count posts that were published in the month of October
- Posts are counted according to the Obsidian Fleet Standard posting rules (500 words = 1 post)
- First to get there gets a shiny!

Let's get to it, everyone!

Cheers,
John
Posted on Tuesday September 22nd, 2020 @ 10:01am by Niyahra Riohn in Out of Character
Hello Rebels,

We have been officially accepted in Task Force 29 of Obsidian Fleet and therefore we'll be able to kick off the game shortly! Please keep an eye on your inboxes for invitations to join Joint Posts so we can establish our first 'mission'.

There are still quite some database entries that we could use some content for, so if you feel like you can contribute to that, please reach out to someone in the Sim Management Team! This game is for all of us, created by all of us, leave your mark on the universe today!

If in the meanwhile creativity strikes you, don't hesitate to put out your own personal posts establishing your characters in this universe. Please keep in mind that they'll be joining the rebel cause relatively quickly, so it would be great if they were near the Orion sector of space.

Cheers,
John
a.k.a.
Niyahra Riohn
Unit Leader
On behalf of the Sim Management Team
Latest Mission Posts
Mission: Marauder's Map
Posted on Saturday October 23rd, 2021 @ 3:51pm by Wraet tr'Melanth & Emily Reagan
As she was essentially being put to work on the Loki as a navigator she had decided to wander off and see what kind of toys this old Federation bucket had. It wasn't a lot but then again it had been out of service for a while.

Emily had found…
Mission: Out on Bad Behaviour
Posted on Saturday September 25th, 2021 @ 8:47pm by Wraet tr'Melanth & Niyahra Riohn & Tiandith 'Tia' Tobru & Adam Rayner & Emily Reagan
The cargo shuttle was just making its approach to the hangar bay door when Wraet and Niyahra stepped off the turbolift. Wraet nodded to Tia whom they'd comm'd on the way to handle the security protocols, and to Rayner representing the Latinum Guard, since the supplies were, at least officially,…
Mission: Out on Bad Behaviour
Posted on Sunday August 29th, 2021 @ 7:13pm by Wraet tr'Melanth & Adam Rayner
The path from the Latinum Guardian's barracks to Wraet's Office had been worn down recently, or so it seemed to Adam. He could almost find his way to the office with his eyes closed, though living within Romulan Empire for as long as he did taught Adam that it was…
Mission: Marauder's Map
Posted on Tuesday August 10th, 2021 @ 2:11pm by Niyahra Riohn & Lennox & Tiandith 'Tia' Tobru & Cleo Ortega & Wraet tr'Melanth & Adam Rayner
Having passed into Romulan space a full day ago, some of the tension aboard had eased though only by a small measure, like the small relief of a slight breeze on a scorching hot day. Wraet had lived through worse; indeed he expected that everyone on board had, but over…
Mission: Out on Bad Behaviour
Posted on Saturday July 31st, 2021 @ 3:02pm by Wraet tr'Melanth & Niyahra Riohn
"So I'm guessing the payment's due any day now," Niyahra sat in the centre chair of the bridge, looking out of the stars streaking by. The RSE never did something that wouldn't benefit them in the long term. And the long term wasn't usually as long as one would hope,…